"The Rockstar I've Loved for So Long" by Marian Tee is a novella within a 6-book bundle called The Rock Gods of Romance, out now and 0.99 for a LIMITED TIME ONLY!
Lose yourself in a wildly passionate, swooningly romantic and enthralling joyride with the Rock Gods of Romance Boxed Set, which features NEW stories of all heat levels from NYT bestselling author Ava Lore and Marian Tee, USA Today bestselling author Liliana Rhodes, and Amazon bestselling authors Caitlyn Duffy, K.T. Fisher, and Mina V. Esguerra.
With this collection, all your secret fantasies and daydreams will come to life in the arms of the sweetest and sexiest rock stars you'll ever find in romance novels.
I received an ARC from New York Times & USA Today bestselling author Marian Tee in return for an honest review.
Dylan Charbonneau, the rockstar 18-year-old Bree Wyle has been in love with since forever, wants to belong to her. That should make her deliriously happy... if only he hasn't made clear he also belongs to the millions of girls who love him, too.
OKAY, first of all, OH MY FUCKING GOD,
When Fangirls Lie's
SAFFI AND STAFFAN! AND 'LITTLE ALEKSIS'?! They have a baby boy!!! A toddler!!! And he's so freaking adorable!!!!
*breathes*
..... okay, I think I got it all out for now.
"...if only he hasn't made clear he also belongs to the millions of girls who love him, too." OUCH. I hadn't read the synopsis before reading the book, but I didn't really need to. Still, what a dilemma! It must be rough being in love with a guy you can't fully have when the whole world wants, does and has been calling him "theirs" for most of his rockstar career. But she loves him! What else can she do?
She knows she's special to him, and he is definitely The One and Only for her delectably innocent heart, but can that really be enough when it comes to rockstars? Is one heart of pure devotion and unconditional love enough for a rock god who's been sustaining himself with millions of pumping, desperately raw, primal and lustful screams?
Bree was a voluptuous fourteen-year-old when she first attended his concert with Saffi, and although she didn't have her glasses, her ears were more than enough to hear his lovely voice sing. And after it ended, with Saffi's older brother Silver playing as chaperon, she searched for a bathroom, only to run into him when she mistakes his door for the WC's. Fast forward four years, and Bree is a young woman still with a heart of pure love for Dylan, and in the span of their four-year relationship of being the other's 'special someone' both privately and in the magazines, Bree has fallen so hard for him, it's starting to hurt a little. And Dylan knows it. But he won't act on it, even after the day she becomes of age.
Because Dylan Charbonneau, band member of Minuit Rogue, has a past that, if left unmonitored, could hurt Bree, and he'll be damned before he ever lets anything happen to the once awkward fourteen-year-old who'd stolen his heart that day in his dressing room. But sometimes, plans aren't always fool-proof. Like his 'plan' to keep her safe by not going to her graduation because he has work, and then sleeping with three women only to have one of them put it on the Internet for all the world- and Bree -to SEE!
YOU IDIOT!!! I'm so pissed at you right now, what kind of mental imbalance do you have that would make you think fucking other women meant keeping Bree safe!?!?!?!

UUGGGHHHH!!!!
.
.
SIGH...
But you know what? I can't even blame him for that, because his father was obsessed enough with his mother to let her schizophrenic ass take on other lovers and make her husband and son watch them. Over. And over. Again.
Schizophrenia and the type of obsession his father had are both genetic. Dylan loves, appreciates and cherishes the fuck out of Bree, but his love might be an obsession. Because he'd do almost anything for her, like his father did with his mother. He cannot afford to let that happen. The more he loves her, the harder he fucks other women in the hopes of killing his "obsession" with Bree. And that's so sad.
Because he's turning into both of them just by fearing of having either one of their sicknesses. He's so obsessed with not hurting her that he tries to do the opposite and ends up hurting her. He's so in love with her that he mistakes it for obsession and then almost becomes this different person when he goes off to Fuckland and Menage-a-World and tries to forget it all.
And yet despite all the stupid, stupid plans, Bree still goes after him. Even after she finds out about his past.
She asked softly, "Did you really think you could push me away so easily?"
His blue eyes widened, and Dylan wondered if he was hallucinating when he heard her next words.
"Come with me now, Dyl. It didn't work. Just accept that and let's leave this place."
Her passion to keep him shocks him, but it washes away the fear that she would leave him for being so fucked up. They finally sleep together after it's determined that both care for each other and won't stop, but while having incredible-holy-fucking-shit sex, she tells him she loves him. He tells her it right back, but afterwards, when they're going at it again, she cries at the fact that her life is perfect in that exact moment and she can't even tell him she loves him because she knows it'll freak him out if they don't take it slow.
"I'm sorry, babe," he whispered, ashamed of the way he kept hurting her
and his inability to stop doing it.
She cried harder. "I know." It was so hard to speak.
Dylan said with difficulty, "I love you."
She closed her eyes, regret in his voice making her hurt worse. "I know." But she also knew now that love might not be enough to keep them together. There were just so many wounds her heart could take before it stopped healing.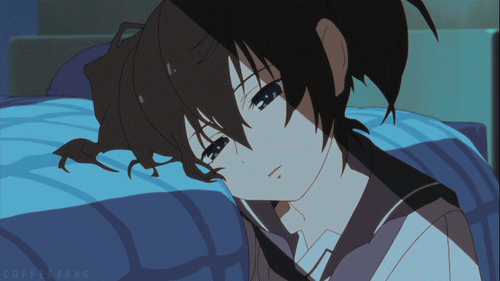 So now that they're finally together, we find out he's not
in love
with her, and Staffan had seen it in the rockstar at the very beginning. :( Dylan can't be in love with Bree if he's still keeping her from his 'sickness' and giving himself to the rest of the world. He'd told her that himself two years ago after she walked in on him with another woman, Henrietta, (like he'd planned) giving his sleeping form a handjob (like he
hadn't
planned. It wasn't meant to go so far for the sixteen-year-old).
She thought her love was enough to keep her going, but even she has come to realize that there's only so much healing her heart can take before it gives out. And that time comes, when Dylan wakes up next to her one morning and his thoughts of kissing the life out of her SCARES him so bad that he leaves. Her. Side. And she finds him dancing with the one woman he always runs to. Henri-fucking-etta.
She's just... done.
One of Dylan's band members tells Dylan that Bree saw, and dude just
knows
he fucked up for the last time because his band member doesn't even get two words in before he's taking off running for her, screaming her name.
You can imagine what happened. A month passes, and Dylan, with the help of his family (who are also his band members) help him to finally forgive and forget with his parents so he can move on to a better life with Bree-
if
he can get her back, which he is determined to do. Bree is now in a university, socializing in the hopes of a new life and getting over Dylan, but he shows up at one of the college's parties on the beach, and after he begs her to give them another chance, the chapter ends, and the last one opens up with the very lines he told her in the beginning. <3
I enjoyed and laughed and cried and LOVED this book. It helps that there wasn't a cliffhanger because it ended on a happy, satisfied note. Marian Tee always finds up different scenarios ('fess up, Tee, you have book elves helping you out, don't you?) to keep you entertained, and she has the ability to make you cry right along with the character and experience what she does throughout the book.
I recommennnnnnddddddd. And again, it's only 0.99 in a 6-book bundle! That's a steal. (HA, 'steal', like Saffi's big brother, Steel....
*cough*
)
Happy Reading :)
PS- You'd be happier if you bought it :P Just a friendly suggestion...