Would you risk everything you thought you knew about yourself it it meant saving everyone you love?
In this thrill debut novel, sixteen-year-old Eden Huntleigh and her family live within the district of Empyrean. Under the rule of The Renegades, and their tyrant leader Cesar, every aspect of life is controlled. Streets are patrolled by humanoid Enforces. Necessities are rationed. Disobedience is not tolerated.
When Eden receives an omen, and joins a group of Revels led by the alluring Leo Dillon, her life begins to unravel.
Just as the Rebels are beginning to understand what they are capable of Cesar has kidnapped their families enforcing them to strike before they are ready. Once inside the Empyrean palace they discover the horror of what they are truly facing. Does Eden have what it takes to be the legend she was destined to be?
Ready or not she's about to find out...
*received a copy from the author in a giveaway*
For a first novel, this wasn't bad. A little young for my taste, though some scenes were pretty gnarly for a YA mind. Aside from the creative world and intense plot, a lot of it made me feel like I would've better appreciated this were I still in middle school.
Eden is a very young character with an attitude that I couldn't embrace, which is probably why it was harder than usual to get into this book; it's told entirely from her mind, after all. The plot was interesting, but the way things were gone about wasn't very interesting enough to keep my attention. A lot of times I found myself skimming over her thoughts on how hot Leo was to get to the point.
OH. So funny story: I was reading this thinking how young everyone was gonna be and then the lust factor came on and I was like-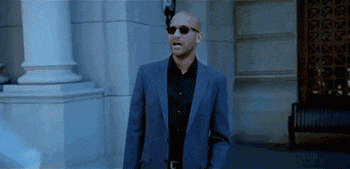 Totally had a nanay moment. Not proud lol
Another thing is that she just felt really young, so to see her suddenly do adult things like lusting after Leo or getting into extremely dangerous situations gave me whiplash. Now I was sixteen once, too, so I get that it's normal, but the whole execution still threw me off. I don't mind teens going on adventures but usually they're the kind of mature ones, the characters who have some type of hard edge to do what needs to be done, if not a sense of propriety.
Maybe I'm just not used to seeing characters
grow
into the people I usually read about, so I won't judge it too harshly, and when I actually think about it, it's pretty cool. I still had some instances that wowed me, and although the flow didn't flow with me, it doesn't mean it won't be amazing for someone else. I'm totally reading the second book, though. I need to know what happens.
Happy Reading =^-^=